What are Patterns?
an interdisciplinary meeting @ the
Neukom Institute
of Dartmouth College
organizers: Simon DeDeo & Dan Rockmore
Participants
/
Background
/
Framing Questions
/
Outputs
/
Schedule
/
Tiny Pre-Homework Assignment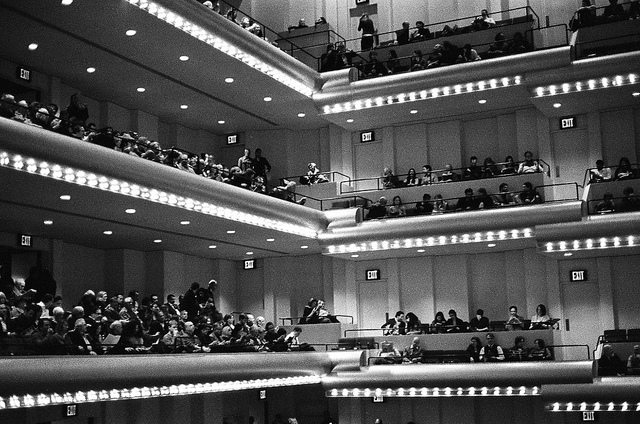 concertgoers at Avery Fisher hall / photo credit: Phillip Kalantzis Cope by-nc-nd/2.0

Background
Increasingly, and in part because of the availability of digitized materials, new mathematical, statistical, and computational methods are being used to study culture and history.
Implicit in these methods, and in the outlook that accompanies them, are framings that generally derive from years of data-driven analysis honed in contexts that may be quite different from those that produce the cultural artifacts that are commonly studied in the arts and humanities.
One might say that the computational scientists have in mind a certain form of "pattern" that they are looking for and that thus constrains what can be recovered (or not) by these analytic methods.
We (Simon and Dan) are as "guilty" as others (OK, less guilty—we hope) of following that paradigm and want to take steps toward changing it. With this goal in mind, we thought it would be interesting to convene a small meeting including a range of scholars in fields that have focused on problems often considered to be outside the domain of the sciences, including poetry, philology, art criticism, philosophy, ethics, and interpretative fields such as the law.
By convening such a diverse group we aim to get a better sense of the kinds of broad questions and methodologies that make up a larger landscape of inquiry and understanding. We believe (and hope) that such a discussion will be inherently interesting. We also hope to inform interdisciplinary investigations moving forward, not only those that join computation and humanities, but also in other kinds of unanticipated collaborations.
Framing Questions
As primer for our meeting, we thought to set down some questions for consideration. These are hardly exhaustive, but we anticipate that they will be enough to help get us all thinking a little about the topics at hand. While the questions are somewhat abstract in nature, we very much look forward to concrete accounts and vivid examples able to bring the ideas to life.
1. What are the kind of patterns you and your colleagues see or look for in your work and areas of interest? How do you know when you have a pattern?
2. How do you argue with a skeptical colleague that the pattern is there, or convince a credulous one that she's found a red herring? What core debates in your field are about patterns?
3. Are patterns normatively neutral? Are good/interesting/beautiful things more likely to have patterns associated with them, or less?
4. What are the timescales of patterns? Can patterns be found within a single object, a single creator, a single movement, a century, a millennium?
5. Are patterns "in the eye of the beholder", or are they intrinsic to the process itself?
6. Are there ur-patterns, "pattern languages", pattern schema?
7. Are patterns driven by human biological and cognitive abilities, or do they transcend these limits?
8. Must patterns be comprehensible and knowable to the participants? Or can an individual or a culture "unknowingly" follow a pattern of massive complexity?
9. What is the relationship between pattern and (natural) law? Pattern and heuristic? Pattern and coincidence?
Outputs
We are undecided about outputs from the meeting; but we're more than interested in brainstorming before, during and after the meeting about ways in which we might write, together, or separately, or otherwise produce a record of our conversations and encounters. Please write us, or the gang as a whole.
Schedule
For those of you who will arrive in time for an informal dinner on Sunday, August 10 and would like to join a group, send us your ETA and we'll put something together. Additionally, there will be a group dinner on Monday.
Our official meetings are on Monday and Tuesday, August 11th and 12th. We will convene three times each day: once from 9 am to 10:30 am; once from 11 am to 12:30 pm; and a third time from 2 pm to 3:30 pm. Time after 3:30 pm is officially unscheduled, although on Tuesday we might take a little longer to discuss outputs and follow-ons.
Monday morning, 9 am -- 10:30 am
Dan Rockmore & Lydia Wilson: Informed Humanities Computing
Monday morning, 11 am -- 12:30 am
Rens Bod: A Field Guide to Patterns
Monday afternoon, 2 pm -- 3:30 pm
Ingrid Rowland & Adrian Randolph
Tuesday morning, 9 am -- 10:30 am
Simon DeDeo & Andy Wedel: Must patterns be visible?
Tuesday morning, 11 am -- 12:30 pm
Mike R. Dietrich & Michael Livermore: Patterns of Scientists, Patterns of Law
Tuesday afternoon, 2 pm -- 3:30 pm
Wendy Hyman
Tiny Pre-Homework Assignment
As you please—but before the meeting starts—we ask that you e-mail to the group a short (~200 word) paragraph on the idea of patterns. We're pretty sure that everyone has thoughts, and we are delighted to receive longer responses as well, but please "block off" a 200-word chunk so everyone can read it. Keep in mind that we come from a variety of backgrounds. Concrete examples help!
We also encourage (but don't require) sharing any paper (via URL to a PDF or HTML page if possible) that seems particularly relevant.
Once again, thank you for your interest and we look forward to seeing you in Hanover.
With best regards,
Simon DeDeo and Dan Rockmore
Participants List
Rens Bod
(Amsterdam; Linguistics, recently
A New History of the Humanities
)
Simon DeDeo
(Indiana University and the Santa Fe Institute; Complex Systems & Cognitive Science)
Michael Dietrich
(Dartmouth College; History and Philosophy of Biology)
Wendy Hyman
(Oberlin College; English Literature)
Michael Livermore
(University of Virginia; Law School)
Mark McPeek
(Dartmouth College; Ecology and Evolutionary Biology)
Steve Nichols
(John Hopkins; Romance Languages, Medieval Studies)
Adrian Randolph
(Dartmouth College; Art History)
Dan Rockmore
(Dartmouth College and the Santa Fe Institute; Mathematics and Computer Science)
Ingrid Rowland
(Notre Dame; Classics and Renaissance)
Andy Wedel
(U. Arizona; Linguistics)
Lydia Wilson
(CUNY & Cambridge; History of Science and Political Science)